Strengthening visual skills – a model workshop at the Ludwig Forum
14.-18.08.2018
Our lives today are greatly influenced by all kinds of visual media. Images have also become a crucial aspect of communication, which is particularly susceptible to manipulation in the digital age. This makes it all the more important to learn how to interpret visual information and elements of visual language.
Seeing and understanding, experimenting and designing
At this scientifically accompanied workshop with children and adolescents from 10 to 12 years as part of the exhibition Flashes of the Future. As one of the first museums in Germany, the Ludwig Forum tested concepts and methods of so-called "visual literacy" for art education, which are intended to strengthen visual competencies in an action-oriented and playful way.
In the workshop, which was accompanied by the University of Leuven, the participants tried to find out in which different ways we can view and understand images. The children and young people then designed a game or a machine that helps us to give meaning to images.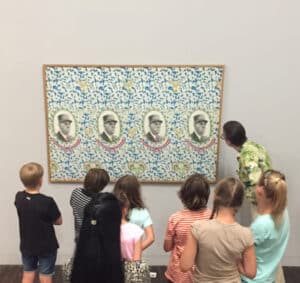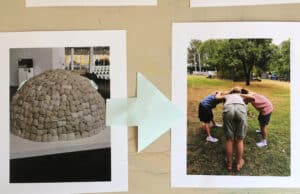 This workshop is part of a cooperation between the Ludwig Forum, the Research Institute for Work and Society (HIVA) and the Research Group Meaningful Interactions Lab (Mintlab) of KU Leuven – with the kind support of the Flemish Region.

Young people in your art museum
How to create opportunities for visual learning?
This poster is part of the RETINA research project that took place in 2018. The aim of the project was to support art and design museums in defining strategies to make them more attractive for the hard-to-reach audience of young people (age 10-14). More specifically, the research explored opportunities to support the visual literacy competences of young people in museums. This was done by organizing co-design workshops with over 40 young people in museums in Belgium and abroad. The results of the project are summarized on both sides of this poster.
---
Kombinatorium – a game of ideas
In frame of the exhibition "Nancy Graves Project & Special Guests" (13.10.13–16.02.14)
In her art Nancy Graves challenges the boundaries usually drawn between abstraction and the figurative, between natural sciences, imagination, and cultural history. We take up the questions she poses and invite you to take part in this game of ideas. Unusual relationships and connections can be formed from a collection of materials. Familiar categories are set in motion through new combinations. Create your own chart and present it in a joint exhibition.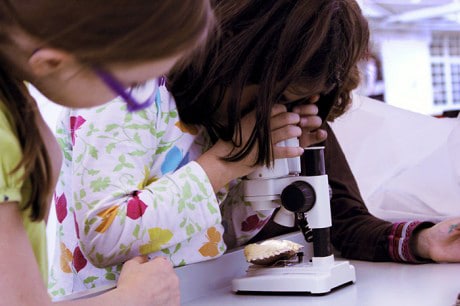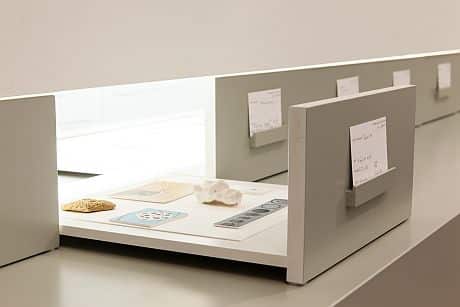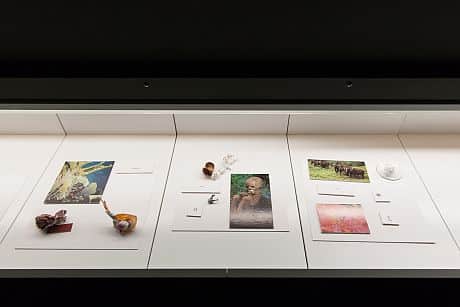 Project manager: Karoline Schröder + Petra Kather.
---
Inclusive workshop with Artur Zmijewski
10.-17.05.2013
In a number of his works Artur Żmijewski focusses on disabilities and the way society deals with people with disabilities. His latest film "Self-portrait" (2013, 13'53", DV) originated in 2013 during a workshop at the Ludwig Forum. Under the Polish artist's guidance, people with and without disabilities created an ensemble of sculptures together, which stands in the Ludwig Forum Park.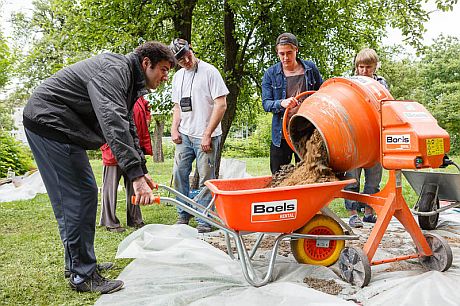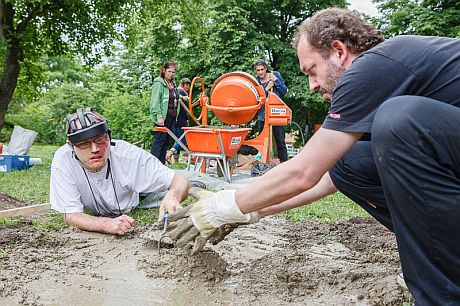 Curated by Miriam Lowack and Holger Otten.
Thanks to: Christa Pitz-Döhler, Leitung Haus Wiesental, Lebenshilfe Aachen, Benjamin Wagner, Sozialarbeiter Haus Wiesental, Lebenshilfe Aachen, Ilona Markiewicz, Sozialarbeiterin Haus Wiesental, Lebenshilfe Aachen, Alfons Knogl, Künstler, Carl Brunn, Fotograf, Nicole Meyer, stadtteilbüro aachen nord, Maike Beckers, Koordinatorin WIR ALLE – Gemeinsam leben in Aachen-Nord, Björn Spangenberg, Lebenshilfe Aachen, Jennifer Menzlaff, Lebenshilfe Aachen, Anna Gasch, Lebenshilfe Aachen, Meehsen Metall-Sägezuschnitte, Würselen, Schmiedewerk Andreas Güldenberg, Würselen
In cooperation with: Lebenshilfe Aachen, Haus Wiesental, WIR ALLE. Gemeinsam in Aachen-Nord, Aktion Mensch
Supported by:

---